Anti-Wrinkle Treatments at Aestheticon®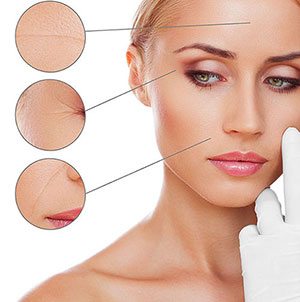 Besides the broad variety of surgical lifting/ rejuvenation procedures, Aestheticon®'s plastic surgeons provide the entire spectrum of anti-wrinkle treatments with Botulinumtoxin, fillers and lipofilling.
Dynamic and static wrinkles of the face like crow's feet, frown wrinkles, deep nasolabial folds, sunken cheeks, wrinkled or narrow lips etc. as well as aged hands can be treated by applying diverse methods and products.
For a maximum safety and long-term efficiency only high quality products are applied at Aestheticon® or lipofilling with body's own tissue will be performed.
For the treatment of dynamic wrinkles, so-called expression wrinkles, botulinumtoxin is used, whereas static or deep wrinkles and grooves are treated with fillers.
Botulinumtoxin
Botulinumtoxin is the number 1-substance for the treatment of dynamic wrinkles. It is to be highlighted, that the Botulinumtoxin applied at Aestheticon® is the original one from the established U.S. brand Allergan, which is of prime quality for our clients' safety.
The substance causes a relaxation of the mimetic muscles and thereby smooths wrinkles. Professionally injected by our plastic surgeons, the facial expression keeps naturally and a rejuvenated appearance results.
The effect lasts 4- 6 months, but repeated treatments are possible at all times.
The costs of the injections depend on the area to be treated and the quantity of needed injection units.
Fillers
Non-dynamic wrinkles, i.e. wrinkles which can also be seen clearly when the face is relaxed, can be treated effectively with dermal fillers which contain hyaluronic acid. We only apply products of market leaders which are eminently suitable also for the treatment of deep grooves and distinct wrinkles and have a long-lasting effect.
Furthermore, fillers can be used to add volume to lips, cheeks, chin and malar areas and moreover the back of aging hands can be terrifically rejuvenated.
The effect of the application of a high quality filler lasts one year or even longer.
Lipofilling
For a permanent effect we recommend the lipofilling method by applying body's own tissue. With perfect bio-compatibility, almost all areas of the face (and body) can be treated.
From a body area with excess fat, tissue will be removed, fat cells are purified and transferred to the area, which needs volume.
Further non-surgical alternatives of wrinkle treatments
If the mentioned wrinkle treatments are not desired or recommended, alternatives are rejuvenation and revitalization procedures with non-invasive, very effective treatments like Radio Frequency.