Forehead Lift and Eyebrow Lift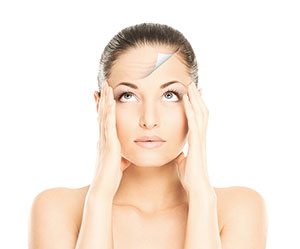 Symptoms:
Sagging of the eyebrows or in combination with a relaxation of the forehead skin, which in addition worsens the so-called 'drooped lid'.
Treatment:
For a patient who suffers from drooped lids as well as eyebrow sagging, it is recommended to correct both at the same time hence this is the only way to achieve an optimal aesthetic result.
The eyebrow lift can be carried out by a temple lift, which implies a pulling of the skin in direction of the hair area and a reduction of the excess skin. In case of male patients, the excess skin above the eyebrows can be directly reduced.
The procedure can be easily extended to a full forehead lift, where the entire forehead, together with the eyebrows, can be lifted and rejuvenated.
In case of the direct eyebrow lift the surgery is performed under local anesthesia, whereas temple lift and forehead lift usually require general anesthesia.