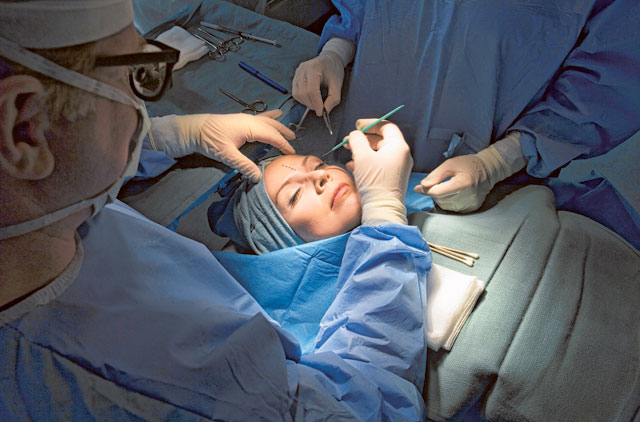 UAE plastic surgery demand mirrors global figures
Pressure to look good puts UAE at par with global cosmetic surgery countries
Dubai: Plastic surgeons in the UAE say that demand for medical services here mirrors global statistics that suggest of all cosmetic procedures, liposuction tops the list of surgical procedures and botox tops the list of non-surgical procedures.
According to plastic surgeons in the Emirates, the pressure to look good and the advances in aesthetic procedures continue to fuel demand for cosmetic procedures.
The newly released statistics were published by the International Society of Aesthetic Plastic Surgery (ISAPS) in its third annual statistical analysis report, in which it tallied data from 32,000 world-wide estimated plastic surgeons.
The report stated that in 2011 there were 1,268,287 liposuction and 3,179,652 botox procedures.
Global auditing and research firm Deloitte in its 2011 Survey of the UAE health care sector said that Dubai might be considered a major medical destination hub for the GCC and northern Africa patients looking for minor cosmetic surgery in addition to Lasik, dentistry and rejuvenation treatments.
German-board certified plastic surgeon Dr Afschin Ghofrani, Medical Director and General Manager at Aestheticon Clinic in Dubai,told Gulf News that based on his 20 years' practice in Germany and now in the emirate, he has witnessed a steady increase in patients from the Middle East.
"The demand is due to two main factors — the increasing pressure to look good in the corporate industry, and the advances in medicine that have made possible aesthetic procedures that weren't possible before. In addition, procedures are safer and less invasive. Demand is high for botox and facial treatments as well as for body reshaping," said Dr Ghofrani.
Last month, the UK-based Elite Cosmetic Surgery Group opened a UAE branch at Dubai Healthcare City (DHCC), prompted by the flow of enquiries from the Middle East.
Speaking to Gulf News, Dr Allen Rezai said that there is a clear need for highly experienced consultant plastic and reconstructive surgeons in the region. Elaborating on the demand for various procedures, he said: "From a surgical point of view, we see a lot of body contouring procedures like tummy tucks [abdominoplasty], liposuction [or lipoplasty] and rhinoplasty in the region. In the UK we see more breast related cosmetic surgeries."
Dr Sanjay Parashar, Founder and CEO of Cocoona, a centre for cosmetic and plastic surgery in Dubai, said: "The recent explosion in cosmetic procedures is inevitable. It is driven by demand from consumers. We have approximately 20 per cent medical tourists visiting our centre for various procedures."
The centre has witnessed a rise in body contouring surgeries like tummy tuck and liposuction. Dr Parashar attributed the increase to the country's high obesity figures.
Read full interview, The Gulf.