Dupuytren's Contracture or palmar fibrosis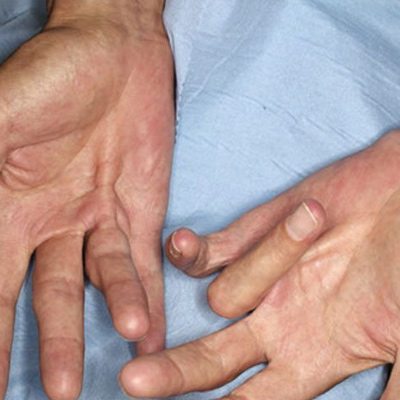 The hand disease called palmar fibrosis or Dupytren's contracture is seen mainly in Europe, North America and Australia.
The disease leads to a development of connective tissue chords in the palm of the hand, which contract and bend the fingers towards a fist.
We know four stages with stage 1 being the beginning of the disease and stage 4 being the most severe stage with flexion of the fingers above 90 degrees. The exact cause is still unclear but linked to genes.
In the beginning, the disease can be treated by physiotherapy, but usually at some point in stage 2 a surgery is required. During the surgery all affected connective tissue chords will be removed and the underlying nerves, vessels and tendons will be saved.
The recurrence rate can be very high, if a non-experienced surgeon performs the surgery. It is crucial to stress that patients, who are suffering from Dupuytren's contracture, should consult a hand specialist. Untreated the disease can lead to fingers being fixed to a fist without the ability to use the hand anymore.